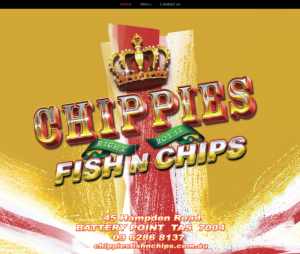 Chippies Right Royal Fish and Chips is the latest design from Hobart Website design.
The brief was to create a simple website that looks good and to promote Hobart's latest restxaurant and their offerings.
Chippies is located in Battery Point, Hobart Tasmania and offer an extensive menu of fish and chips, drinks, pies and desserts. You can eat in the restaurant or the courtyard or order and take away if you prefer.
Chippies pride themselves on offering great food in a nice environment all located in or near the heart of the city.
You can find Chippies at 45 Hampden Road, Battery Point, Hobart or phone them on 03 6286 8137.