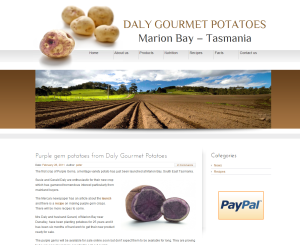 The latest new website design from Hobart Website Designs is for Gerald and Susie Daly.
As the name suggests, Daly Gourmet Potatoes are proud Tasmanian potato growers specialising in growing gourmet potatoes on a farm overlooking beautiful Marion Bay on the south east coast of Tasmania.
With rich deep soil, clean air and good rainfall, Gerald and Susie are able to produce some of the best potatoes in the world.  Daly Gourmet Potatoes are currently growing three types of potatoes, pink-eyes, nicola and a new variety of sapphire potatoes that are call "Purple Gems".
The Purple Gems are a new variety to Tasmania. They are a spectacular purple potato with rich purple flesh that maintains its colour when cooked and makes the most striking mashed potato.
The flesh is a vivid purple or blue colour, the purple ones are almost a little marbled and they are truly beautiful. They do loose a little of their vibrancy through the cooking process, but if you boil them with their skins on they retain their colour a little more as opposed to peeling them first.
Potatoes are full of nutrition that our bodies need to grow and be strong.  Potatoes are a great source of vitamin C, potassium, dietary fibre and niacin, they have zero fat, can be used in salads, for roasting and chipping and for also mashing.
Daly Gourmet Potatoes is built upon WordPress, arguably the best Content Management System (CMS) on the planet and uses a professional theme. Professional photography services are by Tony over at Island26 photography.
If you need a new website, give us a call or send an email and let us see what we can do for you. It costs nothing to ask.
If you would like to find out more, head on over to the contact page, send us an email and see what we can do for you.
–  Peter