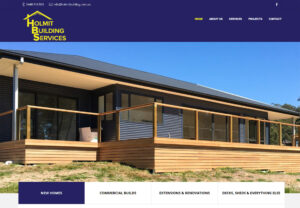 Holmit Building Services
is a Hobart-based building company with extensive experience in all aspects and stages of building who aim to develop a harmonious relationship with their clients through open communication and collaborative planning.
Holmit Building Services
make efficient use of materials to maximise quality and minimise cost. Their ultimate focus is on producing a quality finish both owner and builder can take pride in.
Born out of a love for carpentry, the story of
Holmit Building Services
is one as family-oriented as it is client-focussed. After returning from an extended break from the construction industry, the owner Jonathon Dobson created Holmit Carpentry with himself as the sole employee. The name lends itself to the importance of family, as it comes from the names of his children – Holly and Mitchell. Since then he has steadily built up the company to a point today where it employs 12 skilled workers, incorporating a name change to
Holmit Building Services
along the way. Having built over 30 homes for individual clients as a registered builder, Jonathon has used his expertise and leadership to develop the skill sets of his employees, all whilst continuing to produce high quality building work. With himself at the helm, two experienced project managers to assist, and nine skilled workers to round out the team,
Holmit Building Services
is a versatile and proficient company, and an ideal choice to accomplish your next building project.