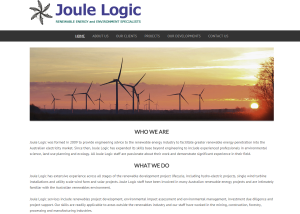 Joule Logic was formed in 2009 to provide engineering advice to the renewable energy industry to facilitate greater renewable energy penetration into the Australian electricity market.
Since then, Joule Logic has expanded its skills base beyond engineering to include experienced professionals in environmental science, land use planning and ecology. All Joule Logic staff are passionate about their work and demonstrate significant experience in their field.
Joule Logic is another small business website, our fourth in three weeks that we have built. Their old website was no longer relevant in the current age of mobile devices and just wasn't working for them.
If your business want or need a new website or perhaps an updated responsive and clean professional look then why not call us or send us an email.