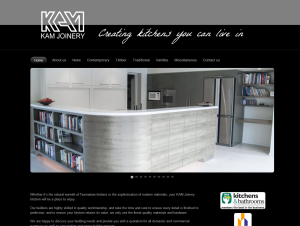 Kam Joinery website has had an update. Kam Joinery are a leading Tasmanian manufacturer and quality builder of kitchens, bathrooms, office furniture and shop fitting and is a multiple winner of HIA and MBA awards.
While their website looks much the same as before, under the hood nearly everything has changed for the better.
Apart from some minor styling changes, the major change is their website is now fully responsive. That is their website will display or switch automatically to accommodate a particular device that is being used such as a mobile device.
With over 50% of online browsing now done with a mobile device such as a tablet or mobile phone it is becoming even more important that your business website is fully responsive for the many different devices and screen resolutions that are being used.
If your website is over 2 years old then it most likely won't be responsive and should be updated.