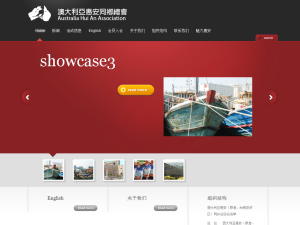 The latest website from Hobart Website Designs is now online.
Our latest design is a for the Australian Huian Association one of the leading welfare organizations catering for the interest of over 500 members of the Huian community living in Australia.
The Hui An Association head office is in Melbourne, having 8 branches distributing in Sydney, Brisbane, Perth, Canberra, Adelaide, Tasmania, and Darwin. The Hui an Association has been operating over the last ten years as a social club, providing a platform for the young and the old, to get to-gather and enjoy social entertaining and professional opportunities around Melbourne and Sydney.
The new Australian Huian Association website will help to represent the interests of the Huian community and over the weeks and months ahead more information will be added so check back occasionally to see what they have been up to.
Hobart Website Designs can offer a new web design package that may be suitable for you. Below is a summary of what we can offer all wrapped up in an affordable price.
Client consultation to find out about your products, services and needs.
An easy to use award winning WordPress content management system (CMS).  Wordpress gives you full control over your website. You can easily add, delete or modify pages, content, images, video and audio files and documents.
Custom design of a web site to your requirements.
Customised branding to suits your business needs. We can design your logo, business cards, stationary to match your new web site.
A contact form for customers to email you.
Social media integration to your requirements including a "Like" button for your Facebook visitors.
An integrated Blog or news page for you to communicate your products and services to existing and potential customers.
Feedburner RSS setup and installation for your visitors to receive regular updates.
Browser testing for Internet Explorer, Safari, Firefox and Chrome browsers.
Full search engine optimised (SEO) website.
Google Analytics setup and installation so you can monitor your traffic statistics.
Complete website installation including domain name and web hosting.
Full backup of your website and data.
If you would like to find out more, head on over to the contact page, send us an email and see what we can do for you.
–  Peter