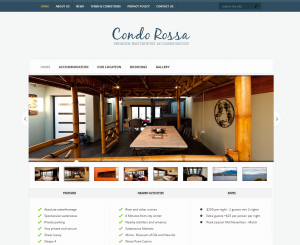 The latest website from Hobart Website Designs is now online.
Our latest design is a for Condo Rossa, a premium waterfront accommodation property on the beautiful banks of the Derwent River in Hobart, Tasmania.
John and Kerry Edwards run Condo Rossa  and are now taking bookings for accommodation starting from 29th October, 2011. Imagine waking to a water view that is nothing short of fantastic on one of the best waterways in the world.
Thinking of a break or a get-away, call John and Kerry Edwards or send them an email.
The Condo Rossa website is typical of the sort of website that we can create for you. Do you want an online presence for a great price, give us a call.
If you would like to find out more, head on over to the contact page, send us an email and see what we can do for you.
–  Peter