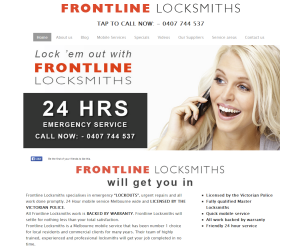 Our latest website is for Frontline Locksmiths based in Doncaster Heights, Melbourne.
Frontline Locksmiths specialises in emergency "LOCKOUTS", urgent repairs and all work done promptly. 24 Hour mobile service Melbourne wide and LICENSED BY THE VICTORIAN POLICE.
All their work is backed by warranty and they offer a fully mobile service and a team of highly trained, experienced and professional locksmiths that can get your job completed quickly and professionally.