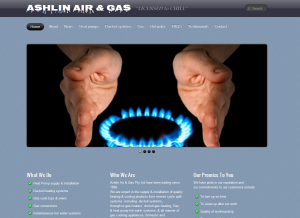 The latest website from Hobart Website Design is for Gary Ashlin who is highly experienced in the installation and maintenance of heating and gas systems.
Gary is expert in the supply & installation of quality heating & cooling products from reverse cycle split systems ,including  ducted systems, through to gas heaters, ducted gas heating, Gas & heat pump hot water systems, & all manner of gas cooking appliances, domestic and commercial as well as ventilation systems to suit these products.
Gary believes in doing it once and doing it properly. I have seen Gary's workmanship and it is first class.
If your business needs a new or updated website, we may be able to help you. Give us a call or send us an email.
This website has since closed as it was no longer required.
 – Peter