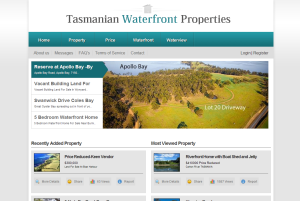 TASMANIAN WATERFRONT PROPERTIES IS NO LONGER ACTIVE
The latest new website from Hobart Website Designs is for Tasmanian Waterfront Properties.
Tasmanian Waterfront Properties is a new real estate listing service set up with the purpose of providing quality listings of Tasmanian waterfront only properties. They offer the facility for owners and agencies to advertise their properties online and linked back to agents or individuals.
The web has become the go-to place for looking for real estate. Image is everything, and we only advertise waterfront properties for sale in Tasmania. These include properties that are adjacent to rivers, lakes, ocean, beaches or any other sizable body of water.
Tasmanian Waterfront Properties website is built upon WordPress, the world's best and most popular Content Management System (CMS) using a professional template. Building a website with WordPress is the most cost effective way of of building an on-line presence.
If you need a new website, give us a call, send us an email or fill out our on-line quote form and let us see what we can do for you. It costs nothing to ask.
This website has since closed as it was no longer required.
–  Peter