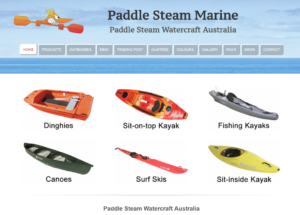 From a small initial outlay and a low annual webhosting cost starting from about $100 per year including a Domain Name, you can be promoting your business and products on the Internet. It is your Yellow Pages advertisement but at a much lower cost. A website is a marketing tool, it is your online brochure and is a very cost effective way of promoting your business.
Our latest design continues the simple and straight to the point design. Uncluttered, clear and no compromises for a simple eCommerce website.
Paddlesteam are Australian distributors for a wide range of canoes, kayaks and dinghies and accessories.
Does you small business need a new website or perhaps an update?