The Derwent Valley School of Creative Woodwork is a new website for Chris Bush of New Norfolk.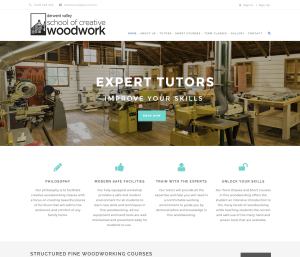 Chris is very passionate about teaching and woodwork and has facilitated a series of creative woodworking classes with a focus on creating beautiful pieces of furniture that will add to the ambience and comfort of any family home.
The school is based at The Oast House in New Norfolk and has a fully equipped workshop which provides a safe and modern environment for all students to learn new skills and techniques in fine woodworking. All their equipment and hand tools are well maintained and presented ready for students to use.
Their tutors will provide all the expertise and help you will need in a comfortable working environment to guide you by demonstration and knowledge in fine woodworking. Their Term Classes and Short courses in fine woodworking offers the student an intensive introduction to the many facets of woodworking while teaching students the correct and safe use of the many hand and power tools that are available.
The Derwent Valley School of Creative Woodwork is our latest design and has integral course management including on-line booking and payments system.