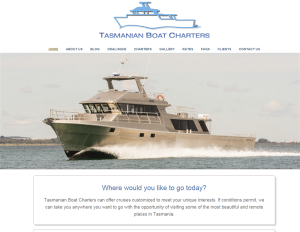 Tasmanian Boat Charters not only has a nice new shiny boat but also an updated website to go with it.
Tasmanian Boat Charters offers cruises customized to meet your unique interests anywhere in Tasmanian waters and beyond. The Odalisque can carry 12 passengers in comfort and I can testify to that as I was fortunate enough to travel on the delivery voyage from Fremantle, Western Australia. We had no trouble crossing the open waters of the Great Australian Bight and Bass Strait in both style and comfort.
Their new updated website is now fully responsive which means that it is mobile friendly. No more "pinch to zoom" in or out to read the website text. Navigation is easier and with a fully responsive website, no matter what your mobile device, you will be able no easily find your way around.
With over 50% of people now browsing on a mobile device, if your website is not mobile friendly then you may be missing out on business.