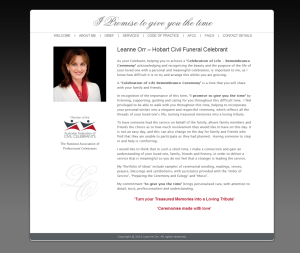 The latest new website from Hobart Website Designs is for Hobart Funeral Celebrant, Leanne Orr.
Leanne is a fully qualified Celebrant and can provide help to arrange a beautiful and moving ceremony, that creates a fitting tribute to the person to be honoured.
The task of a Funeral Celebrant involves a great deal of involved work, with gathering information and putting it together very quickly and ensuring accuracy, under the pressure of such an intense timetable and this is where Leanne can help those who have lost a loved one.
Leanne can also help with Memorial, Placing of Ashes and Remembrance ceremonies and will work with you to produce a ceremony appropriate to your needs.
Leanne can also help you to pre-plan and arrange your own funeral ceremony as a way of expressing your wishes and to help reduce the burden on loved ones during a most difficult time.
Leanne's website is built upon WordPress, the world's best and most popular Content Management System (CMS) using a professional template. Building a website with WordPress is the most cost effective way of of building an on-line presence.
If you need a new website, give us a call or send an email and let us see what we can do for you. It costs nothing to ask.
If you would like to find out more, head on over to the contact page, send us an email and see what we can do for you.
–  Peter