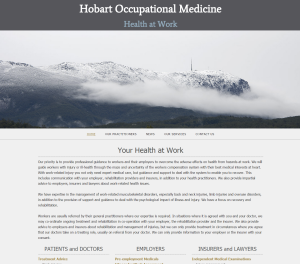 Our latest website design is for Hobart Occupational Medicine.
Hobart Occupational Medicine's priority is to provide professional guidance to workers and their employers to overcome the adverse effects on health from hazards at work.
They will guide workers with injury or ill-health through the maze and uncertainty of the workers compensation system with their best medical interests at heart. With work-related injury you not only need expert medical care, but guidance and support to deal with the system to enable you to recover.
This includes communication with your employer, rehabilitation providers and insurers, in addition to your health practitioners. We also provide impartial advice to employers, insurers and lawyers about work-related health issues.