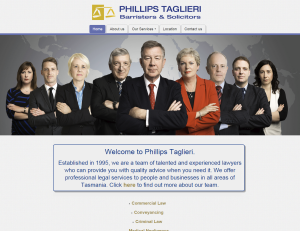 When an important decision has to be made and you need a lawyer who can provide you with quality advice, a lawyer you can trust and one who will go the extra distance to protect your interests. Phillips Taglieri can meet this need. We are a team of talented and experienced lawyers available to give you advice when you need it.
Phillips Taglieri have a new website and may be able to help you in most matters requiring legal advice and help. Their new website is now on-line and will be further updated with additional information in the new year.
Their new website is built upon the Genesis Framework with Dynamic Website Builder and all using WordPress.