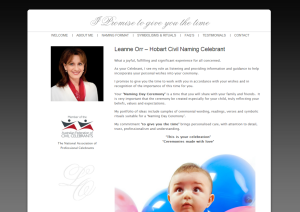 The latest new website from Hobart Website Designs is for Hobart Civil Naming Celebrant, Leanne Orr.
Leanne is a fully qualified Celebrant and can provide help to arrange a beautiful and moving Naming ceremony created especially for your child, truly reflecting your belief's, values and expectations.
A Naming Ceremony is a very special way of celebrating the birth of your child or a lovely way to welcome an adopted child or young step-children, into the family.
A Naming Ceremony is a unique and meaningful event that is designed to welcome your child into the family and to celebrate his or her place in the wider community.
Leanne has a portfolio of ideas including samples of ceremonial wording, readings, verses and symbolic rituals suitable for a 'Naming Day Ceremony' and Leanne will give you the time to help make the day very special.
Leanne's website is built upon WordPress, the world's best and most popular Content Management System (CMS) using a professional template. Building a website with WordPress is the most cost effective way of of building an on-line presence.
If you need a new website, give us a call, send us an email or fill out our on-line quote form and let us see what we can do for you. It costs nothing to ask.
–  Peter