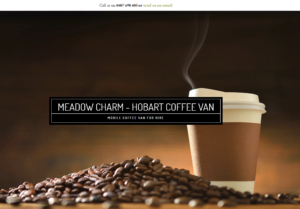 Meadow Charm is a new design from Hobart Website Design. Meadow Charm uses the Genesis Framework operating on WordPress.
Meadow Charm is a mobile coffee van specialises in providing a Mobile Coffee Cart service for weddings, parties, events, trade shows, conferences, festivals, mobile barista hire and other events in Southern Tasmania
They provide a Mobile Coffee Cart with a selection of hot and cold drinks including coffee, latte, tea, hot chocolate, milkshakes and various soft drinks and bottled water. We use Oomph a Tasmanian gourmet coffee.
They also offer to serve snack foods including hot foods such as party pies, sausage rolls and toasted sandwiches.  Cold treats including slices and Byron Bay cookies with gluten free options. They have a Responsible Serving of Alcohol certificate and can serve alcohol for weddings, functions and corporate events.