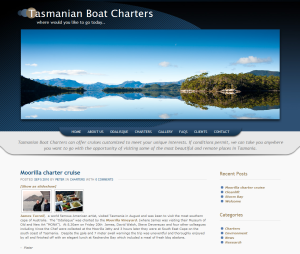 The waters of Tasmania offer exquisite experiences ranging from the delightful and serene sheltered waters of the south-east, to the adventurous, rugged wilderness of the Tasmanian south and west coasts.
The latest website from Hobart Website designs is for Tasmanian Boat Charters owned and operated by Pieter van der Woude. Pieter specialises in charters for adventurers, film makers and researchers studying the pristine coastal waters of Tasmania and Bass Straight.
Tasmanian Boat Charters is typical of the small business websites that we can build and maintain for you.